Discover building automation solutions designed to make it easier to turn data into action. Our WebCTRL® system gives you the ability to see and understand everything that's happening in your building. The WebCTRL system also offers the analytics and comparative data to show you how to make improvements – all while eliminating the complexities that often come with web-based building automation.


DELIVER OPERATING EFFICIENCIES
Maximize efficiency with advanced capabilities for applying real data to the operations of your intelligent building's core systems. Tools like occupancy scheduling, optimal start/stop, Environmental Index™, and thermographic floor plans help increase performance and energy savings.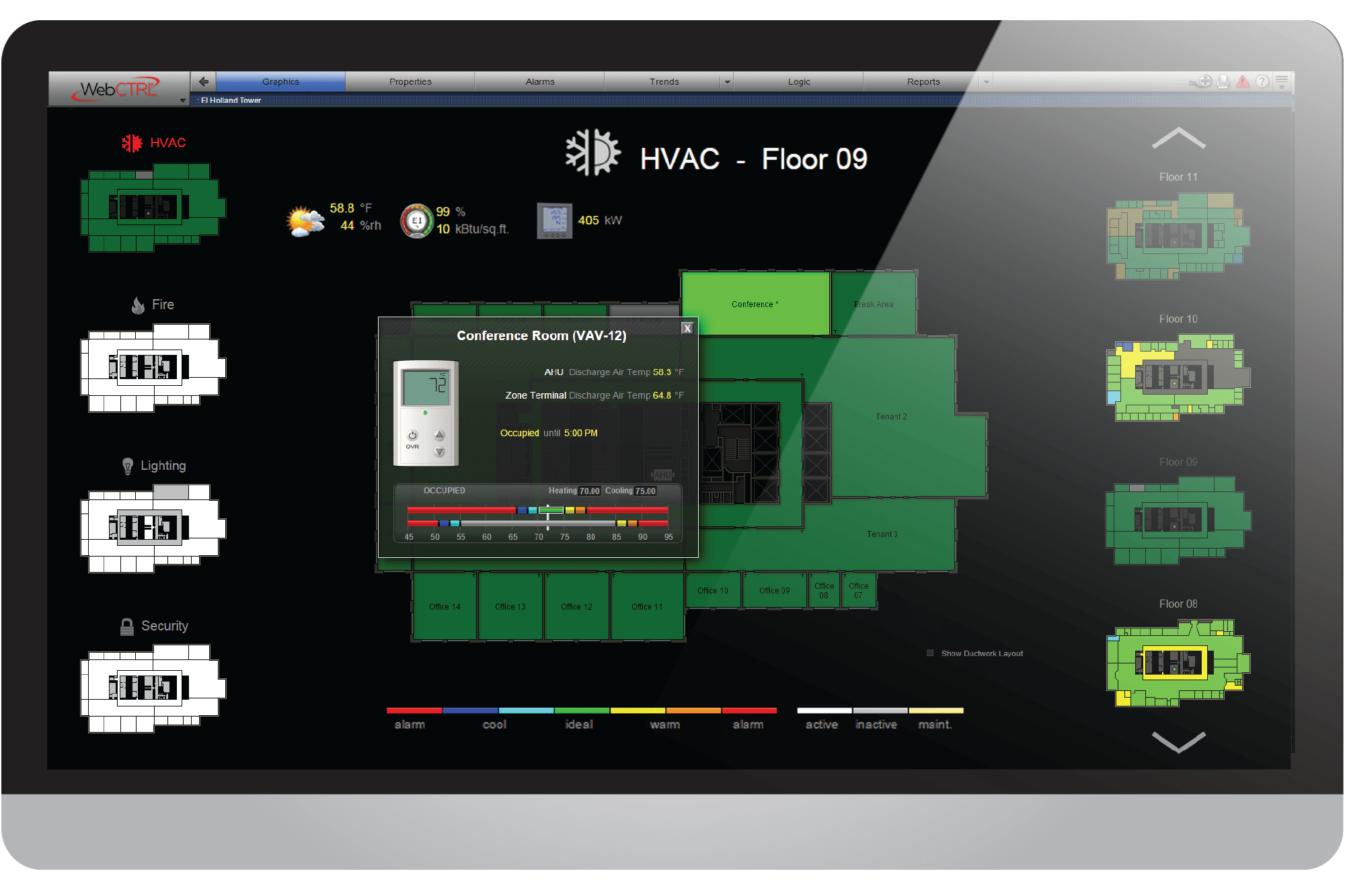 MAINTAIN COMFORT & PRODUCTIVITY
Ensure comfort to improve occupant experience and productivity, while improving the efficiency of your building. Our HVAC controls let you manage temperature, humidity and indoor air quality (IAQ) so you can maintain the perfect balance between energy use and comfort.
Learn More keyboard_arrow_right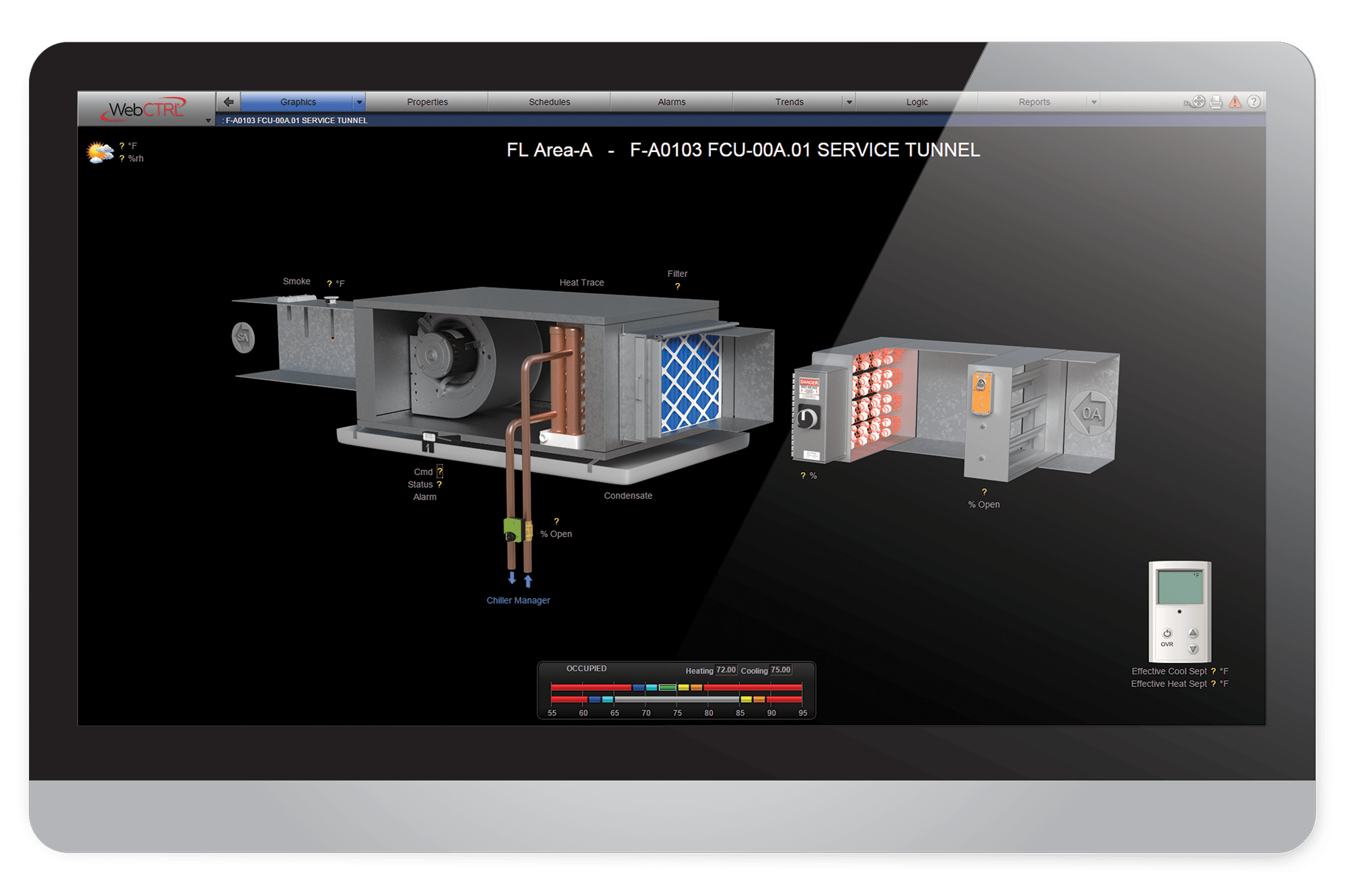 VISUALIZE DATA & GAIN INSIGHTS
See building data with greater detail with thermographic floor plans, equipment graphics, and trend plotting tools. Create graphs, reports, and dashboards from anywhere in your system and bring data to life with dynamic colors and customizable graphics so systems are easier to understand and utilize.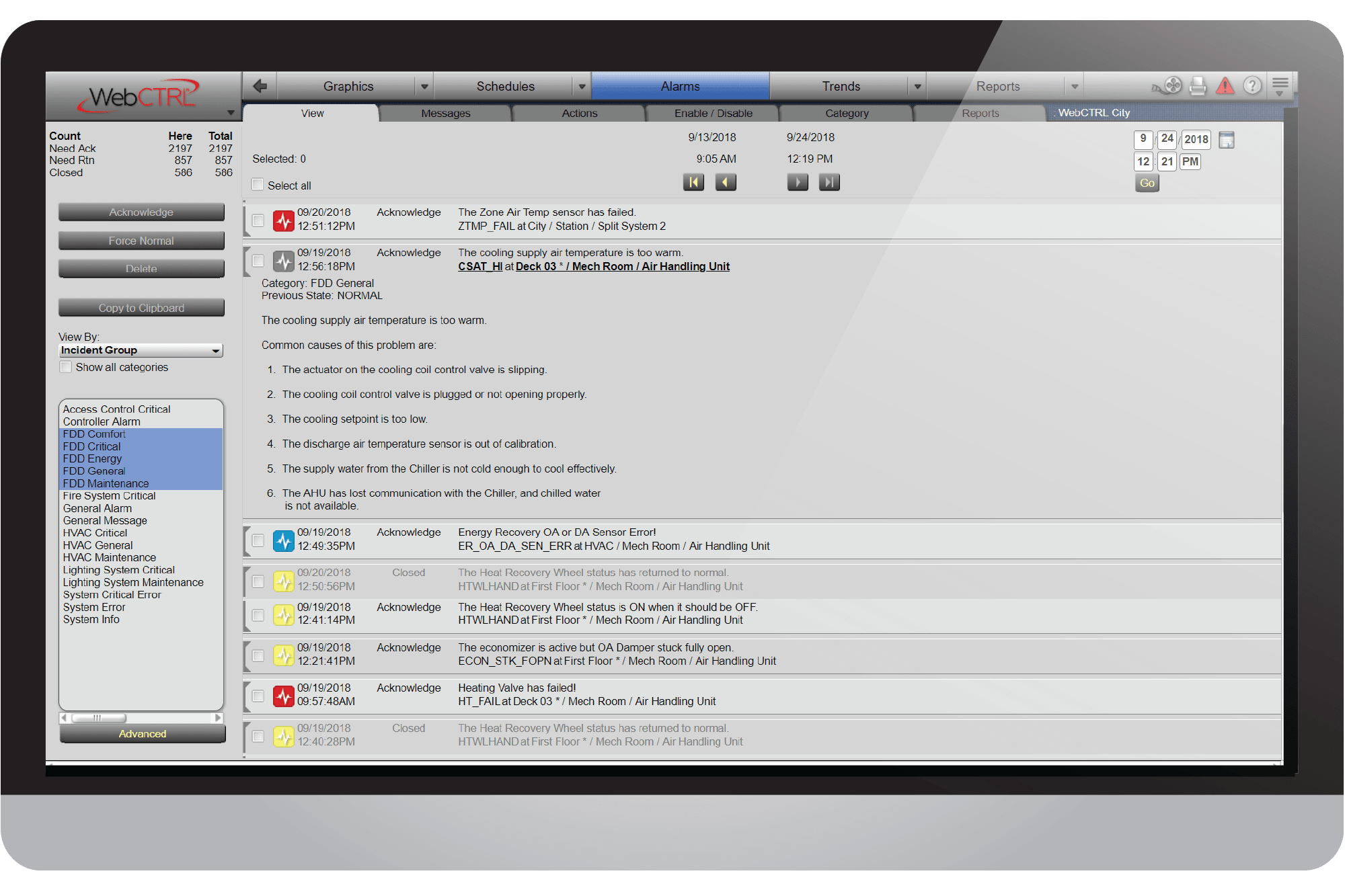 Identify and respond to issues before they happen with Fault Detection and Diagnostics – a solution that measures, anticipates, provides insight, and automatically responds to system conditions using a library of over 100 proven faults within typical HVAC equipment.
Learn More keyboard_arrow_right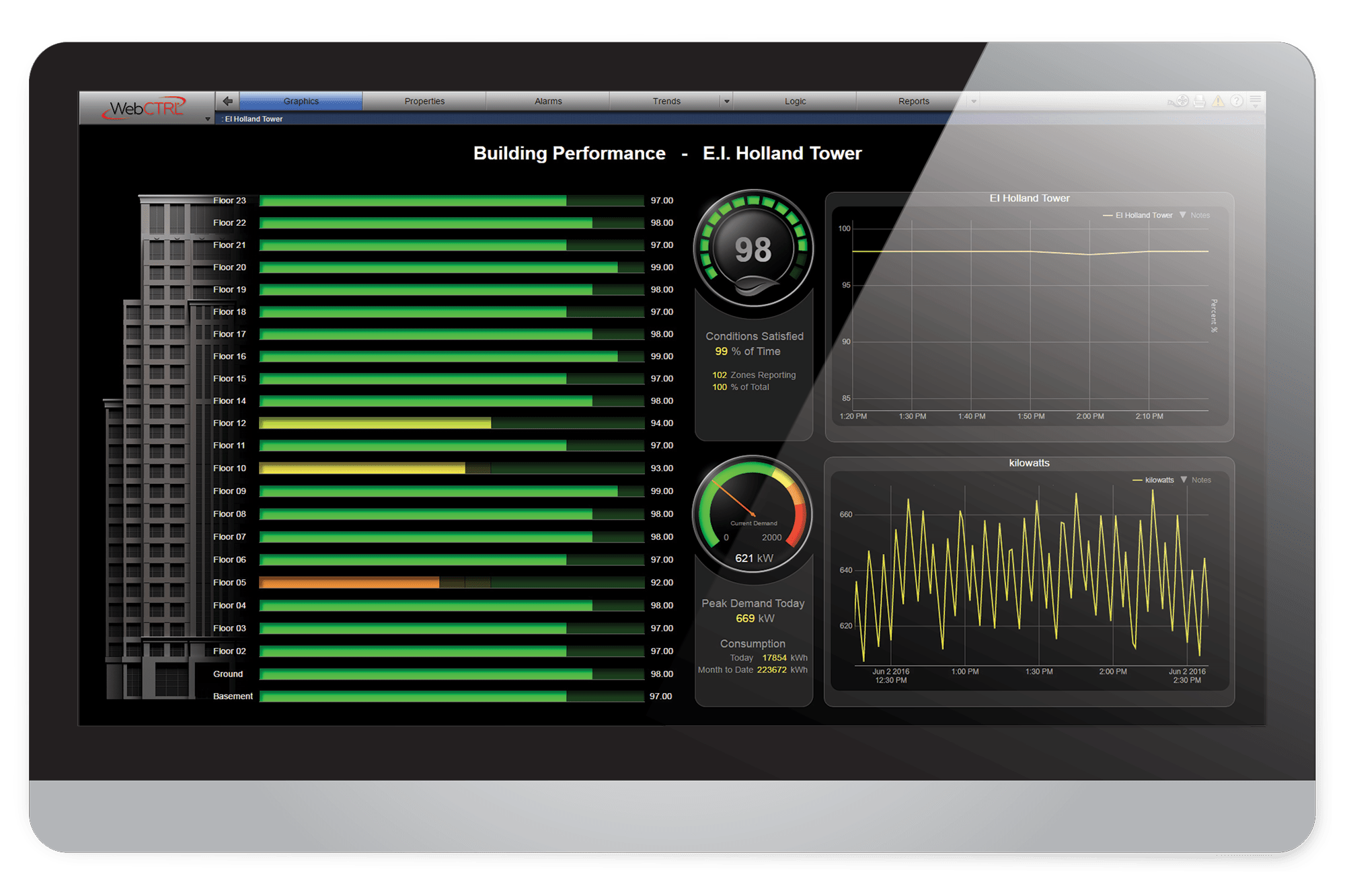 OPTIMIZE BUILDING PERFORMANCE
Minimize energy use with sophisticated, scalable solutions designed to optimize systems of any size and complexity. Our application-specific control solutions like PlantCTRL® and chilled water system optimizer include algorithms designed to give you complete control over chiller plants – while integrated dashboards inside the WebCTRL® interface provide immediate, actionable insight on how they are improving building efficiency.
INTEGRATE BUILDING SYSTEMS
Explore applications beyond the scope of typical building automation systems. The open architecture and support for industry standards allows the WebCTRL sytem to integrate at a higher level by communicating with diverse systems including (but not limited to):
Building management systems
Mechanical HVAC
Lighting controls
Hydraulic systems
Fire systems
Electrical subsystems
Generators
Security and access control
CCTV
Vertical transportation
Metering
Aquatic centers
Public amenities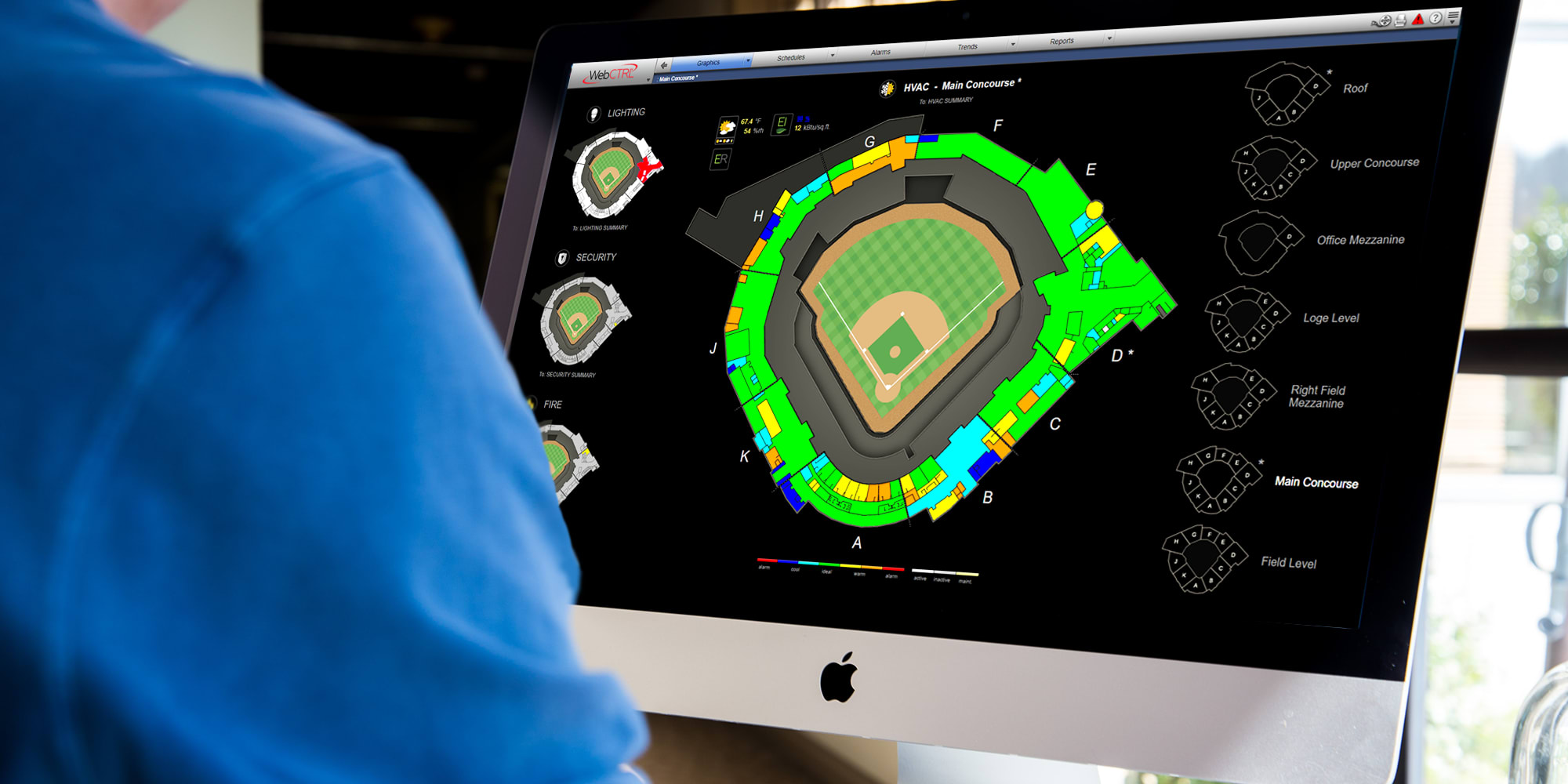 We make management intutive
Explore our full range of building automation products.