MULTIPLE SYSTEMS INTEGRATION
Turn to Automated Logic to be your Multiple Systems Integrator (MSI). Our MSI solution combines innovative products and expertise to connect all your facilities, systems, and equipment seamlessly, enabling centralized management from a single user interface. You can count on us to be your trusted advisor throughout the entire project, from consultation to design to implementation and service.


INCREASE OPERATIONAL EFFICIENCY
Maximize efficiency with chiller plant controls, Fault Detection & Diagnostics (FDD), HVAC schedule optimization, demand controlled ventilation, energy monitoring and reporting, demand response controls, occupancy monitoring, and elevator performance monitoring.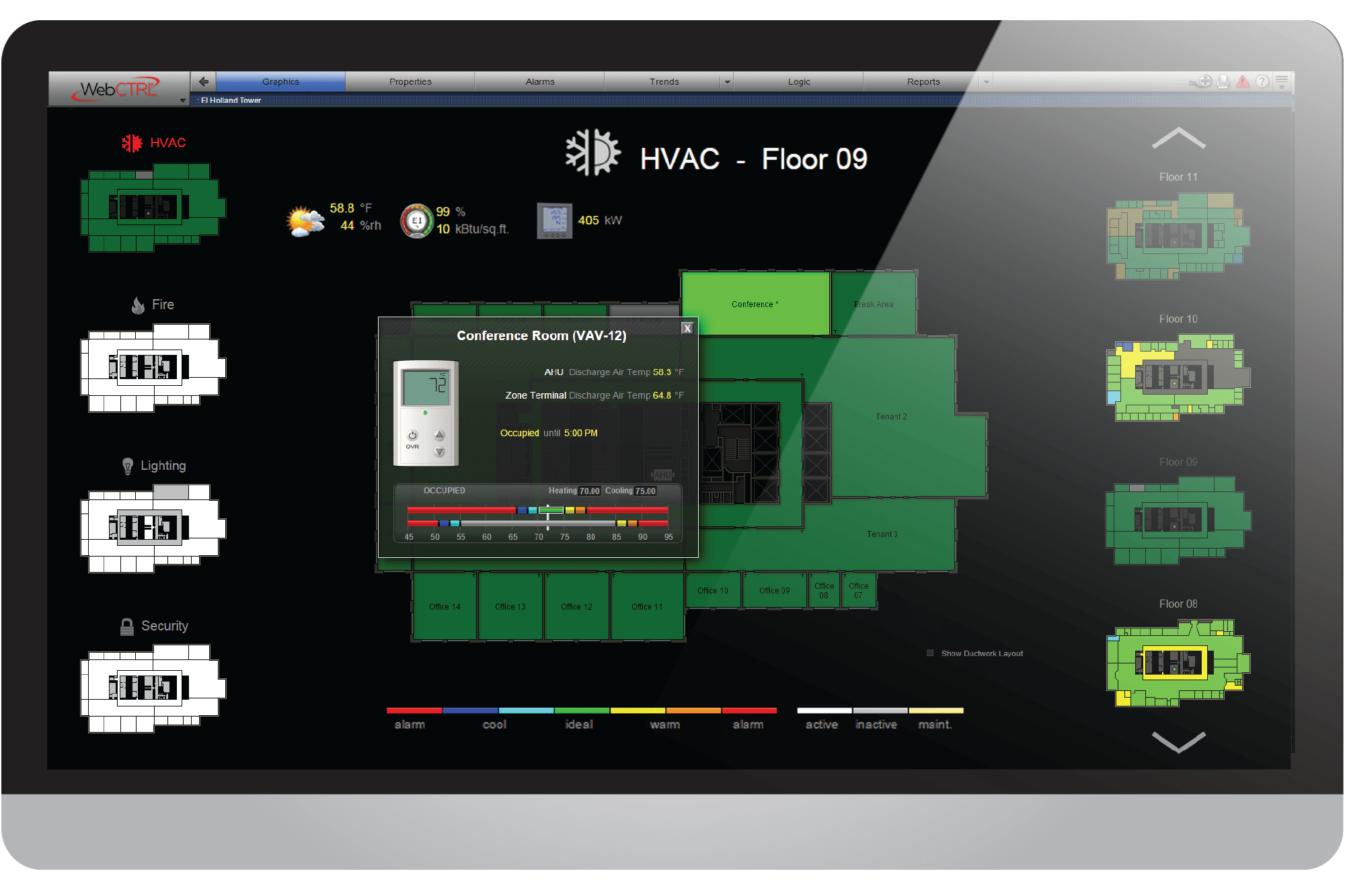 ENHANCE OCCUPANT EXPERIENCE
Help improve occupant experience and productivity by managing temperature, humidity, indoor air quality (IAQ), and lighting. Dispatch elevators based on crowd sensing technology.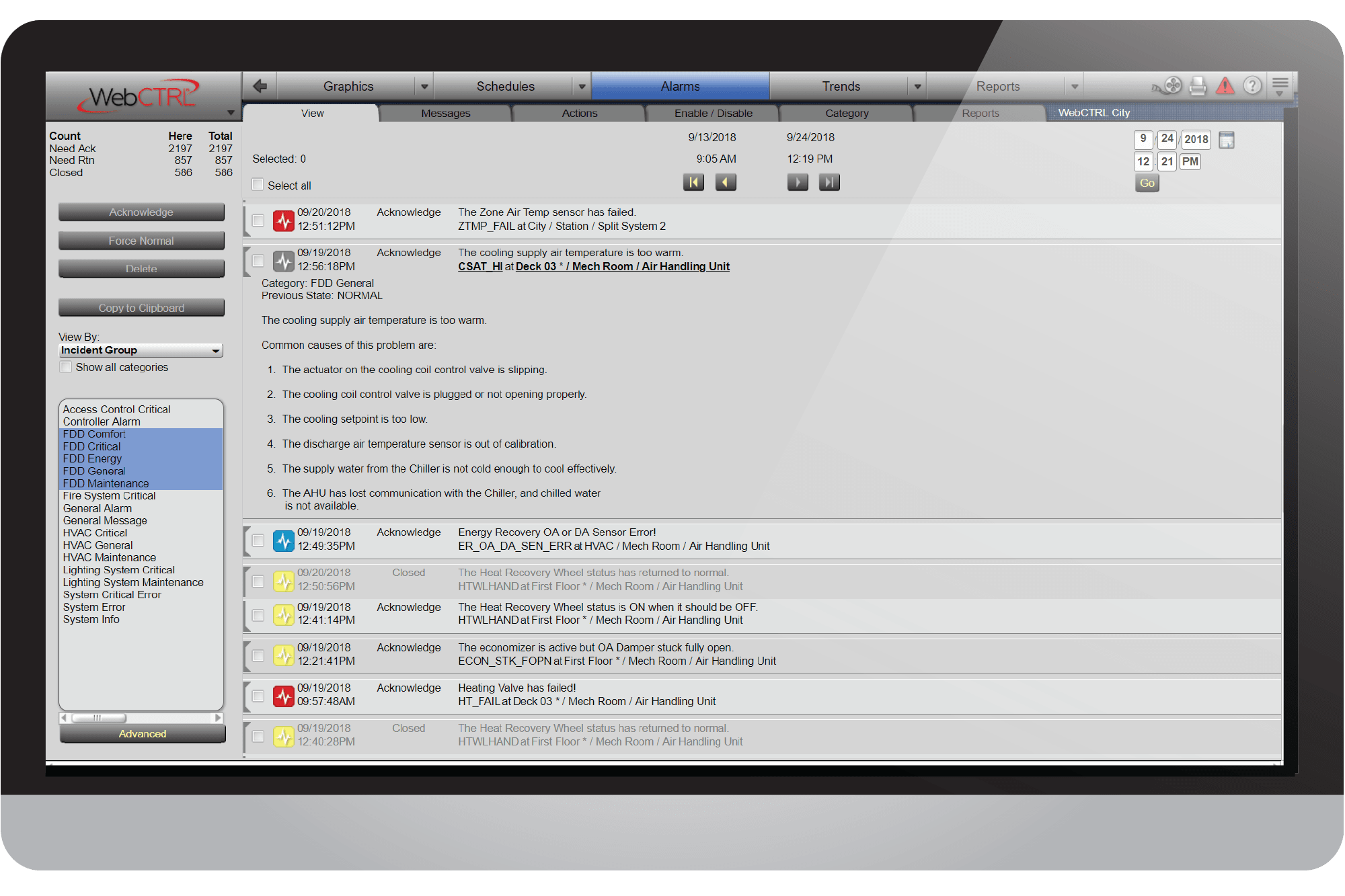 PROTECT PEOPLE & PROPERTY
Manage building alarms from a central location. Automate response to security incidents. Monitor fire alarms and invoke automated smoke control strategies.
Integrate Building Systems
The WebCTRL system will be the single pane of glass for managing your entire building.
HVAC & Lighting Control
Centralized Alarm Management
Energy Monitoring / Reporting
Personalized Comfort Control
Fault Detection & Diagnostics
Chilled Water System Optimization
Predictive Occupancy
Location Services
Room Scheduling
People Counting / Space Utilization
Electric Vehicle Charging
Vertical Transportation Integration
Service Ticketing Integration
Fire/Smoke System Integration
Multi-Site / Portfolio Management
Demand Response
Mobile Credentialing
Security System Integration
Continuous Commissioning
PV System Integration
Dynamic Glass / Shades Integration
Data Center Equipment Integration
Integration Expertise
Our MSI experts will help you from start to finish.
We'll review your vision, objectives, personas, journeys, and constraints to create the functional requirements and key performance indicators (KPIs). We'll review enabling technologies, create the statement of work and specification addenda, and evaluate vendors.
We'll create the design submittals, software and graphics, ceiling plan, and server and network layouts. We'll also develop the change control protocol, commissioning script, installation plan, and risk management framework.
We'll create the manpower, testing, and commissioning plans. We'll install the control panels, servers, network, and integration platform. We'll supply as-built documents, verification reports, certification support, system training, warranty letter, and MyWay Building App for occupants.
We'll manage software patches and upgrades, system monitoring, fit-outs/remodels, and sub-system changes. We'll supply a service contract, service projects, a change control protocol, continuing education, and automated reporting.
Integration Experience
Our track record includes successful integrations with the following systems and manufacturers.
Carrier, Trane, York, Lennox, AAON, Daikin, LG, Mitsubishi, Seasons 4, Munters, Addison
Acuity, Phillips, Lutron, Crestron, Hubbell, Leviton, GE, WattStopper, Enlighted, Triatek, BlueRidge
Service max, Maximo, Service Channel, Dude Solutions, SalesForce
Schneider, EATON, Siemens, Electro Industries, eGuage, GE, Veris, Setra
Edwards, Simplex, Vesda, JCI, Hochiki, Kedde-FenwalNet, Notifier, Siemens
OpenADR 2.0a, OpenADR 2.0b, cPower-VirtuwattLink, Voltus, PG&E, Austin Energy, Enernoc, Joule, SCE
MyWay, Blue Diamond, Supra
Lenel S2 – OnGuard, Cisco CMX, MyWay
Cisco CMX, Phunware, MyWay
AlsoEnergy, SolarEdge, Vigilant, SunGrow, SMA
MS Exchange, Crestron, Cisco
Sage Glass, View Glass, Draper, Loytec, Mechoshade, Somfy
Clipper Creek, ABB, Schneider Electric, GE
Schneider, EATON, Veris, MGE, Toshiba, Mitsubishi, PDI, Caterpillar, Kohler, Liebert, Stultz, Airedale