WebCTRL's web-based software is the "single pane of glass" that allows facilities staff to manage all of their building systems, including heating, cooling, ventilation, lighting, safety, security, and much more - from anywhere at any time.

BUILDING CONTROL CAN BE COMPLICATED.
WE WORK HARD TO KEEP IT SIMPLE.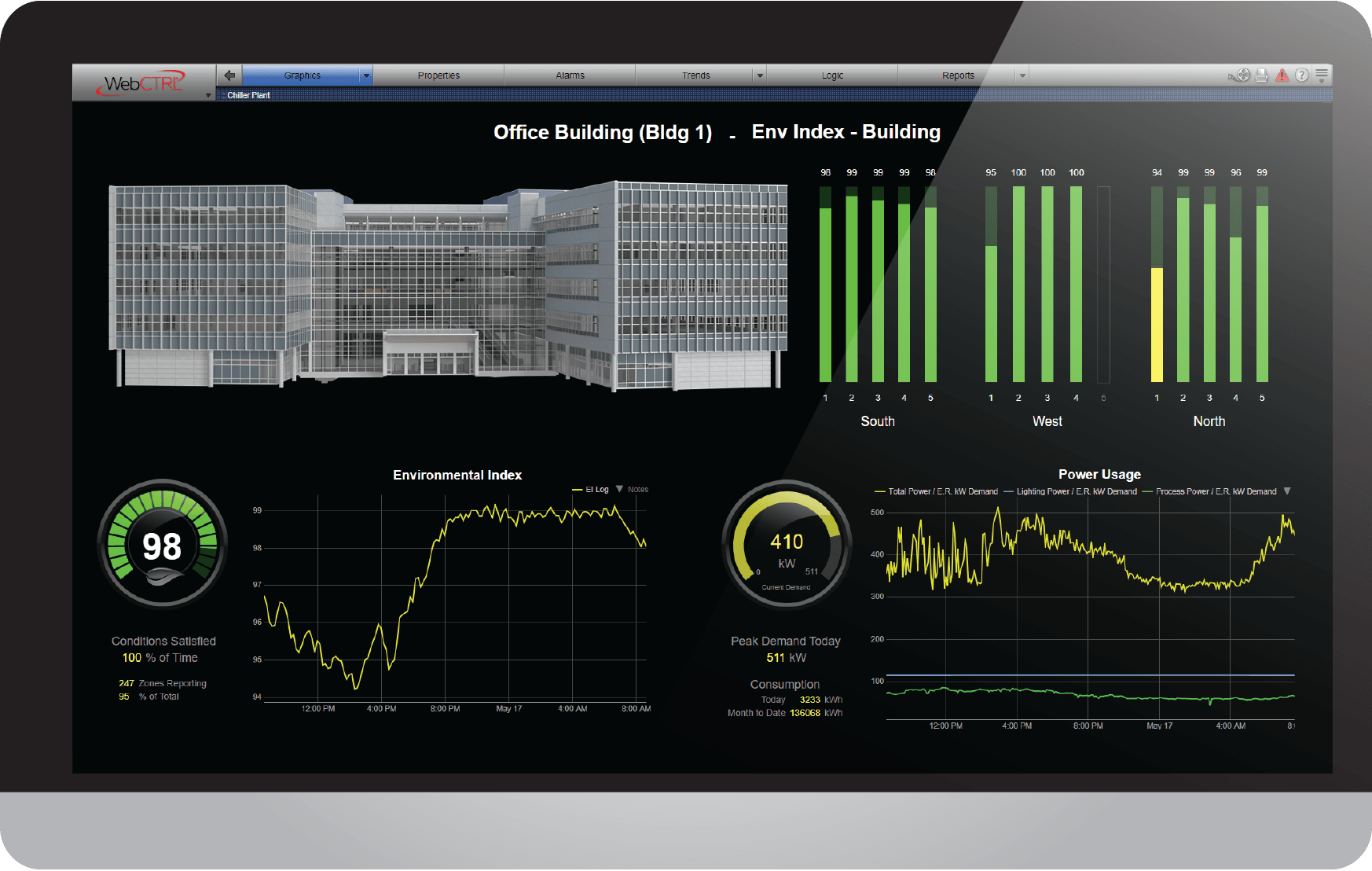 Powerful, comprehensive building management with intuitive point-and-click graphical access
Dynamic color floor plans convey a quick understanding of building conditions
Customizable graphics, schedules, trends, reports, and alarms
Inherent WebCTRL Environmental Index tool for measuring, analyzing, and comparing comfort conditions against setpoints helping you balance comfort with efficiency
Powerful WebCTRL Time-lapse graphics for analyzing and troubleshooting up to 24 hours of past building operation
Built-in Fault Detection and Diagnostics to help anticipate, provide insight, and automatically respond to building issues
Can be deployed on-premises (you host/maintain software), or in the Cloud (ALC hosts, secures, and maintains software for you)
FEATURES
The WebCTRL building automation system offers users efficiency and productivity all in one streamlined interface. Our system converts building data into powerful visualizations that can be interpreted quickly – so operators can act quickly. As a result, our system can keep occupants more comfortable, safe and secure, while optimizing building operations.
Rather than interpreting setpoints and calculations, Automated Logic thermographs interpret the data, showing the results in color floor plans that can be easily understood to enable a quick understanding of facility-wide comfort and operating conditions.
The automated Logic Fault Detection and Diagnostics (FDD) library in the WebCTRL building automation system can pinpoint over 100 proven faults in typical HVAC equipment. It helps users by measuring, anticipating, providing insight, and automatically responding to system conditions that are not necessarily critical, but may be trending that way – all with the goal of improved performance.
The revolutionary Time-lapse™ feature within the WebCTRL system allows operators to roll back time, up to a 24- hour slice, and play back hours of realtime data in just minutes. Floor plans, equipment graphics, trends, and alarms over a past period of time can be accessed easily enabling quick identification, review, and resolution of building control issues.
With the EnergyReports platform facility managers can take advantage of a flexible, easy-to-use reporting tool that enables them to produce a wide variety of reports showing a building's energy consumption.
We make it easy for authorized users to view and archive energy usage data in order to help manage utility consumption.
Every WebCTRL system supports live, visual displays of control logic, which uses real time operational data and aids in optimizing and troubleshooting system operations. There is no need to understand cryptic "line by line" computer code.
Customizable dashboards provide operators with standard KPIs such as energy consumption, the Environmental Index™, triggered faults and a breakdown of FDD alarms by category.
Supports customized, graphically displayed schedules for buildings, floors, zones or equipment groups to manage.
Enables operators to track and troubleshoot building conditions.
Alarm conditions are graphically represented and sorted by source, type, and criticality. Managers can easily program and generate alarms that notify users after specified events have occurred.
Add-ons
The ACxelerate auto-commissioning add-on is used to commission single-duct, dual duct, and fan-powered (series and parallel) VAV terminal unit dampers and reheat valves. VAV terminal units are ideal for automated testing due to quantity, locations, and the difficulty in accessing them, whether the building is new, existing, low-rise or high-rise. The ACxelerate tool has substantially reduced commissioning time in all types of tested buildings.
The BACnet Scheduling Interface add-on for the WebCTRL® building automation system extends the system's scheduling capability by allowing third-party event management software to read and write BACnet schedules. These schedules are used to control when mechanical equipment runs in the building.
The FDD Reporting & Dashboards Add-On For The WebCTRL® System Allows Users To Run Reports Of Fault Detection And Diagnostic (FDD) Alarms Reported By Your WebCTRL System.
WebCTRL® Open Automated Demand Response (OpenADR) add-on provides a non-proprietary, open standardized Demand Response (DR) interface that allows electricity providers to communicate DR signals directly to the WebCTRL system. Product certified and listed with OpenADR Alliance.
The LDAP/Active Directory add-on for the WebCTRL building automation system is an authentication provider that allows you to log in to the building automation system using LDA (Lightweight Directory Access Protocol) or AD (Active Directory) credentials.
With this powerful and flexible tool, users can schedule operations in Microsoft Exchange or Outlook.
The Trend Export add-on allows you to specify, manage, and export trend source data to a .CSV file. Users can export the files on-demand at any time or at scheduled intervals allowing them to process or analyze trend data outside of the WebCTRL building automation system.
The WebCTRL building automation system can use our weather forecasting add-on to create intelligent control strategies based on weather forecasts and outdoor air quality, helping to maximize occupant comfort and energy efficiency. Our new Weather Forecasting add-on uses data from AccuWeather®, National Weather Service®, and Environment Canada.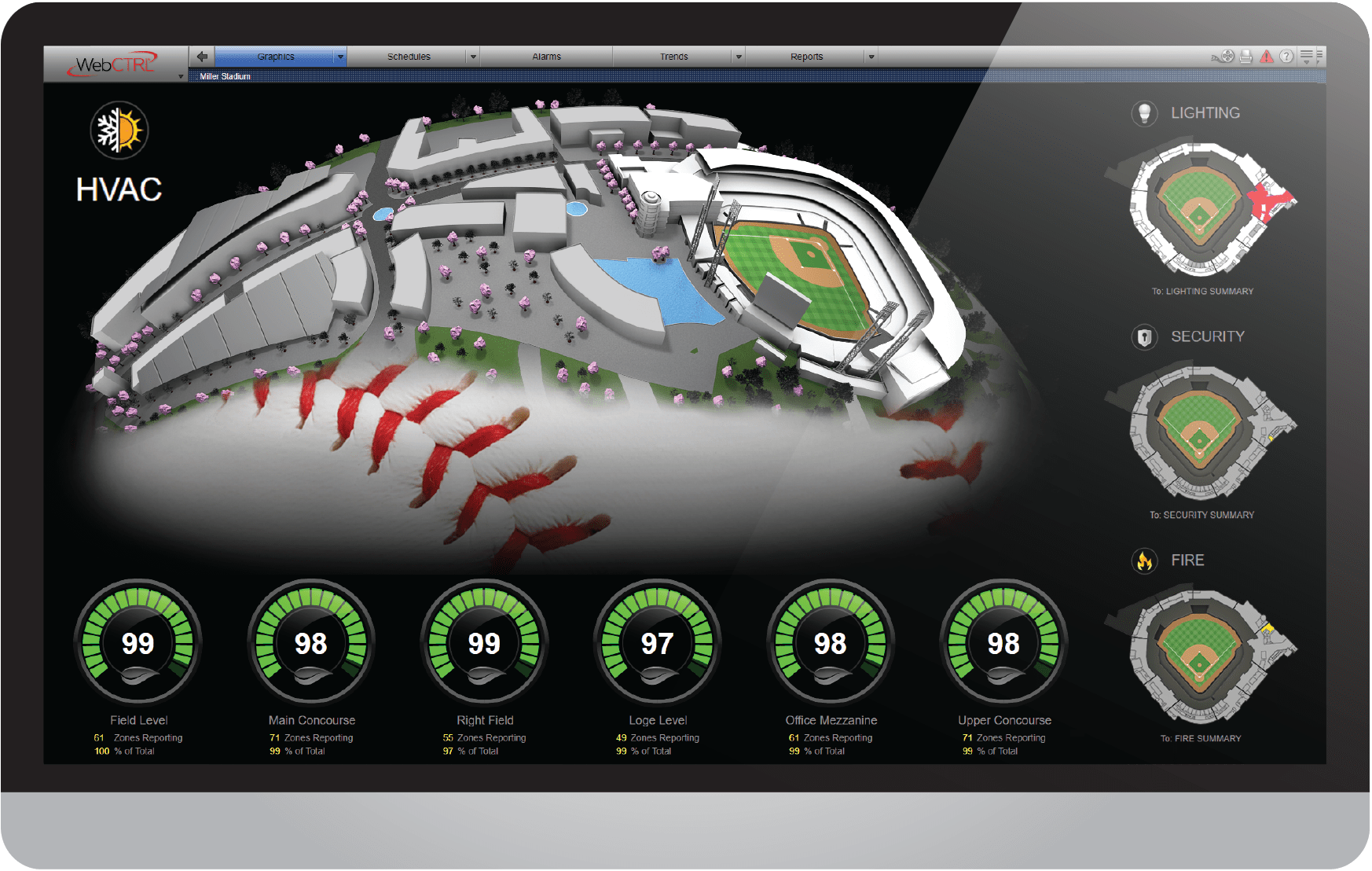 LEARN MORE
WE MAKE BUILDINGS BETTER
Learn more about the success we've had partnering with customers to improve the operation of their intelligent buildings.