Automated Logic Launches Latest WebCTRL v8.5 Software
KENNESAW, Ga. -
Automated Logic today announced its latest software release for the WebCTRL® building automation system, delivering message queuing telemetry transport (MQTT) integration capabilities and efficient staged controller downloads. These enhancements provide building owners and operators with more connectivity options, help them future-proof their building automation and control networks and help technicians provide better customer service. Automated Logic, a leading provider of innovative building-management solutions, is a part of Carrier Global Corporation (NYSE: CARR), the leading global provider of healthy, safe, sustainable and intelligent building and cold chain solutions.
"The WebCTRL v8.5 system continues to deliver on our internet of things (IoT) connectivity promise and our commitment to open standards like MQTT and Sparkplug, helping customers solve their data integration challenges both today and tomorrow," said Mead Rusert, President, Automated Logic. "We also continue to enhance our commissioning tools so that technicians can deliver the best and most efficient customer service possible."
With MQTT's standard lightweight messaging protocol for IoT, Automated Logic's optional MQTT add-on makes it fast and easy to publish data from the WebCTRL Building Automation System (BAS) to an MQTT broker—a standard component in cloud environments. BAS data is automatically formatted according to the Sparkplug B specification for MQTT and enriched with deep context from the BAS, including semantic tags. This rich data is used by other enterprise-level applications to inform business decisions.
The new WebCTRL v8.5 software also includes an efficient staged download process for upgrading controller firmware. While traditional downloads disrupt HVAC equipment operation throughout the entire download, the new staged process splits the download into discrete steps, which reduces downtime of the connected HVAC equipment.* The downtime can be independently and proactively scheduled for non-critical times to minimize disruption.
The WebCTRL system continues to be one of the most user-friendly building automation systems, with reliable, proven technology to create fully integrated, high performing buildings. It can be deployed on-site or in the cloud.
For more information on WebCTRL, which allows building operators to save energy, keep occupants comfortable and increase operational efficiencies, visit www.automatedlogic.com or stop by Booth 1519 at AHR Expo.
About Automated Logic Corporation
Automated Logic Corporation provides innovative building management solutions that maximize energy efficiency and sustainable building operation while ensuring comfort. Its intuitive products control and monitor building functions such as heating, air conditioning and lighting for commercial office, education, health care, government and data center markets through a global network of independent dealers and North American branch offices. Automated Logic is a part of Carrier Global Corporation, the leading global provider of healthy, safe, sustainable and intelligent building and cold chain solutions. For more information, visit www.automatedlogic.com or follow @AutomatedLogic on LinkedIn.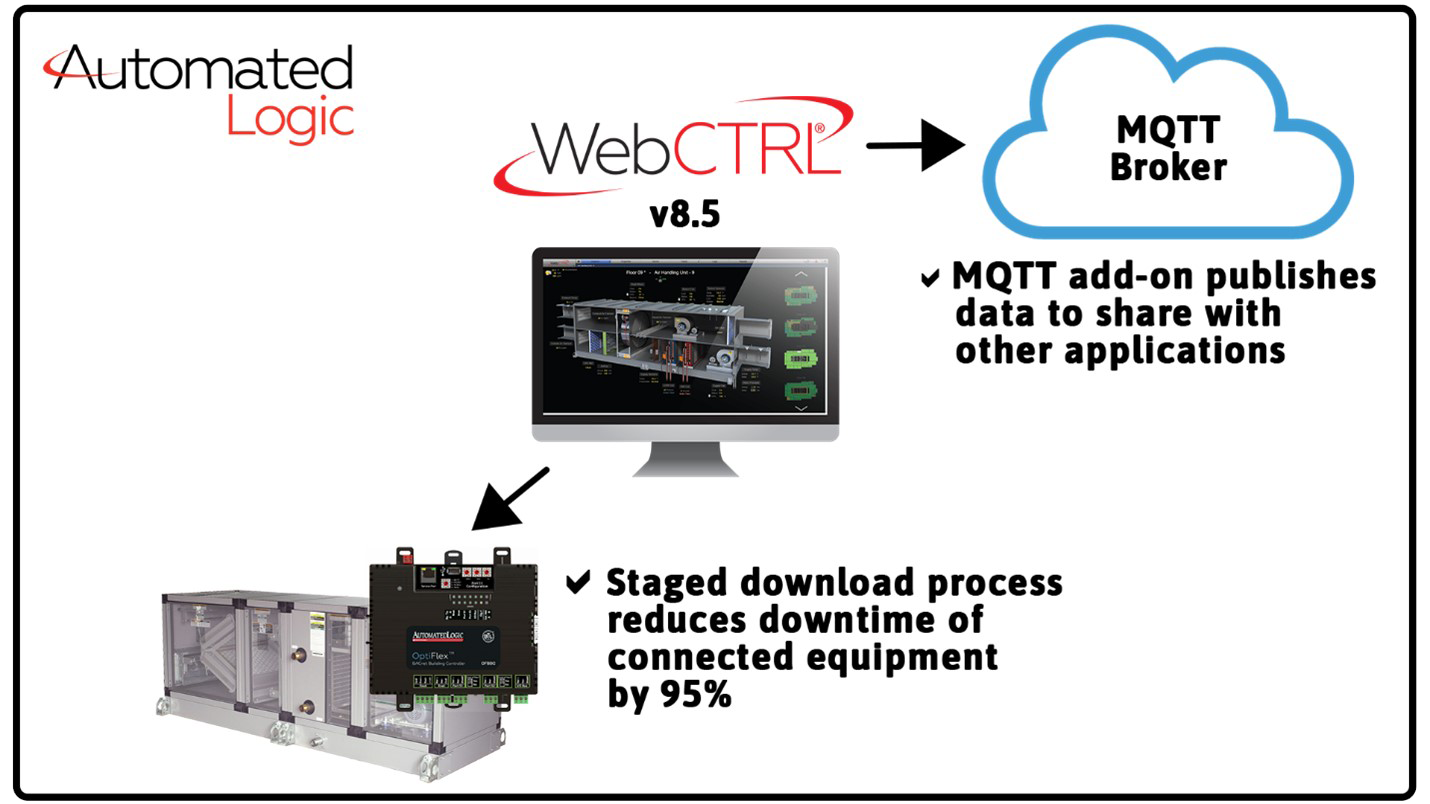 WebCTRL v8.5 now supports MQTT integration for IoT connectivity and staged controller downloads to minimize equipment downtime.