The most comprehensive construction and facilities renovation program in Rush's more than 170-year history, the Rush Transformation will continue into 2016, and includes:
A central energy plant sized to support up to 2.9M SF
A seven-story staff and student parking garage
The Orthopedic building, a five-story, 220,000 SF facility
An underground loading dock & material management system
The Atrium addition, a 14-story, 806,000 SF hospital tower seeking LEED certification
Renovations to the existing hospital atrium & other facilities
The Solution
Automated Logic Chicago was tasked with enabling the campus's vision of a new 'Building Automation System of the Future' via the WebCTRL® front end software utilizing the ANSI/ASHRAE Standard 135, BACnet® open protocol.
ALC Chicago is proud to do our part by implementing the Environmental Index (EI) on the campus in both the Orthopedic Building and the new hospital. Automated Logic's Environmental Index gives facility managers a simple method for determining both the energy efficiency and occupant comfort level within a building with one look at a color-coded dial. Instead of manually analyzing data from multiple sources to determine if buildings are operating efficiently, facility managers can instead use the EI, which automatically gathers data on heating and cooling set-points, relative humidity, and contaminants like C02. This allows facility managers to quickly identify operational problems and take corrective action to achieve sustainable performance.
Phase I of the transformation was completed in late 2009 with the opening of the new Orthopedic Building, parking garage, central energy plant and loading dock. The five-story, $75 million, 220,000-square-foot Orthopedic Building located 1611 W. Harrison St. is the largest facility devoted to orthopedics in the Midwest. Featuring 60 examination rooms, six x-ray and imaging suites, an imaging center with CT and two MRIs, full-service physical and occupational therapy facilities, orthotics and prosthetic services, and research facilities of the Department of Orthopedic Surgery; it is a center where world-class research converges with outstanding patient care. Rush is seeking a LEED Silver rating from the U.S. Green Building Council.
Phase II of the Transformation, set for completion in January of 2012, represents a new era of hospital design, shaped by user input to improve quality and optimize the patient experience while creating an environmentally sustainable facility with the most advanced technology available. The 14-floor, $575 million, 806,000-square-foot building will house Rush's acute and critical care patients as well as surgical, diagnostic and therapeutic services utilizing the most advanced technology available. It will incorporate a concept called "the interventional platform," with three floors devoted to surgery, imaging and specialty procedures. Upper floors will contain 304 acute and intensive care beds, 72 neonatal intensive care unit beds, and 10 labor and delivery suites. The ground floor will house the McCormick Foundation Center for Advanced Emergency Response, with unique capabilities to handle epidemics and mass casualties. In an effort to become the first full-service, "green" hospital in Chicago, Rush is seeking LEED certification from the U.S. Green Building Council. Among the hundreds of energy efficient and sustainable strategies the building will employ are multiple green roofs for slow release of rainwater into storm sewers, extensive use of recycled materials from structural concrete to interior finishes and furniture, and use of energy efficient systems for lighting, heating and cooling.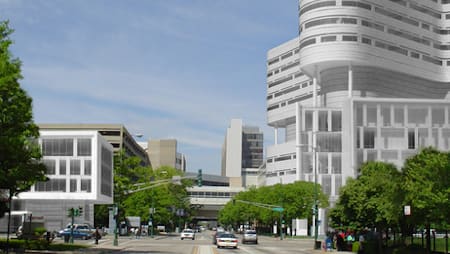 | | |
| --- | --- |
| Client: | Rush University Medical Center |
| Location: | Chicago, IL |
| Controls Contractor: | Automated Logic Chicago |
| Project Type: | Healthcare campus transformation |
| Building Size: | 1,000,000+ SF of new facilities |
| Objectives: | Enhance the patient experience and improve the quality of care |
| Design Considerations: | Build new facilities, renovate existing buildings, and adopt state-of-the-art new technologies |
| Major Decision Drivers: | ALC's team approach, financial stability, and open protocol solution |
| HVAC Controls: | Automated Logic's WebCTRL |
| Installation Date: | 2008-2012 and beyond |