RENOWN REGIONAL MEDICAL CENTER
The importance of ensuring and maintaining healthy building environments is now more critical within today's hospital settings. Public areas, emergency rooms, patient rooms, surgical suites and treatment centers all require their own unique air quality standards and safety protocols. In Reno, Nevada, Renown Health is northern Nevada's healthcare leader with an extensive network of hospitals, urgent care centers, lab services, x-ray and imaging services, and more than 7,200 employees.
The Renown Health Board determined the need to further protect their award-winning Renown Health Institute for Cancer Radiation Therapy from airborne contamination in order to maintain a healthy building environment. As such, they reached out to the local Automated Logic dealer, Quality Control Systems (QCS) of Reno, Nevada to provide a recommended solution that would meet the new Indoor Air Quality (IAQ) requirements, while maintaining compatibility with their existing control system.
The Solution
With a long-standing relationship with Renown, QCS proposed and delivered an HVAC equipment and controls solution that helped improve IAQ. The final retrofit solution would require converting the existing plenum return air to a ducted system which would allow a controlled introduction of fresh outside air.
Eighty percent of the retrofit project took place in the fully-functioning Renown Health Institute for Cancer Radiation Therapy. All work had to be completed in the evenings, which included the installation of new equipment and to ensure that a spotless environment was ready for patients the next day. All this taking place every night for nine months during the COVID-19 pandemic.
The complexity and logistics of the project involved the installation of new return air ductwork in ceilings full of supply air ductwork and a myriad of ancillary system components. Existing fan-powered boxes were replaced with new VAV boxes. Also, existing equipment, ductwork and ancillary components located throughout three floors, the basement, and rooftop required removal. The initial phase began in the basement, with the replacement of the existing HVAC system, construction of a 15' x 20' room, and installation of a patented fan wall system, VFDs and controls. New duct work had to be installed from the rooftop to the basement to bring in fresh, conditioned outside air down to the fan wall. The isolation room located on the third floor was structurally modified to support new exhaust fans on the roof. Once installed, their ductwork was connected to the first floor isolation room's exhaust fans.
For precise system operation, optimal energy efficiency and full management capabilities, Automated Logic sensors, controllers and routers were installed throughout the entire project. Each Automated Logic component combined to form a single, unified network which allowed the WebCTRL building automation system (BAS) to provide centralized control over all of the new components.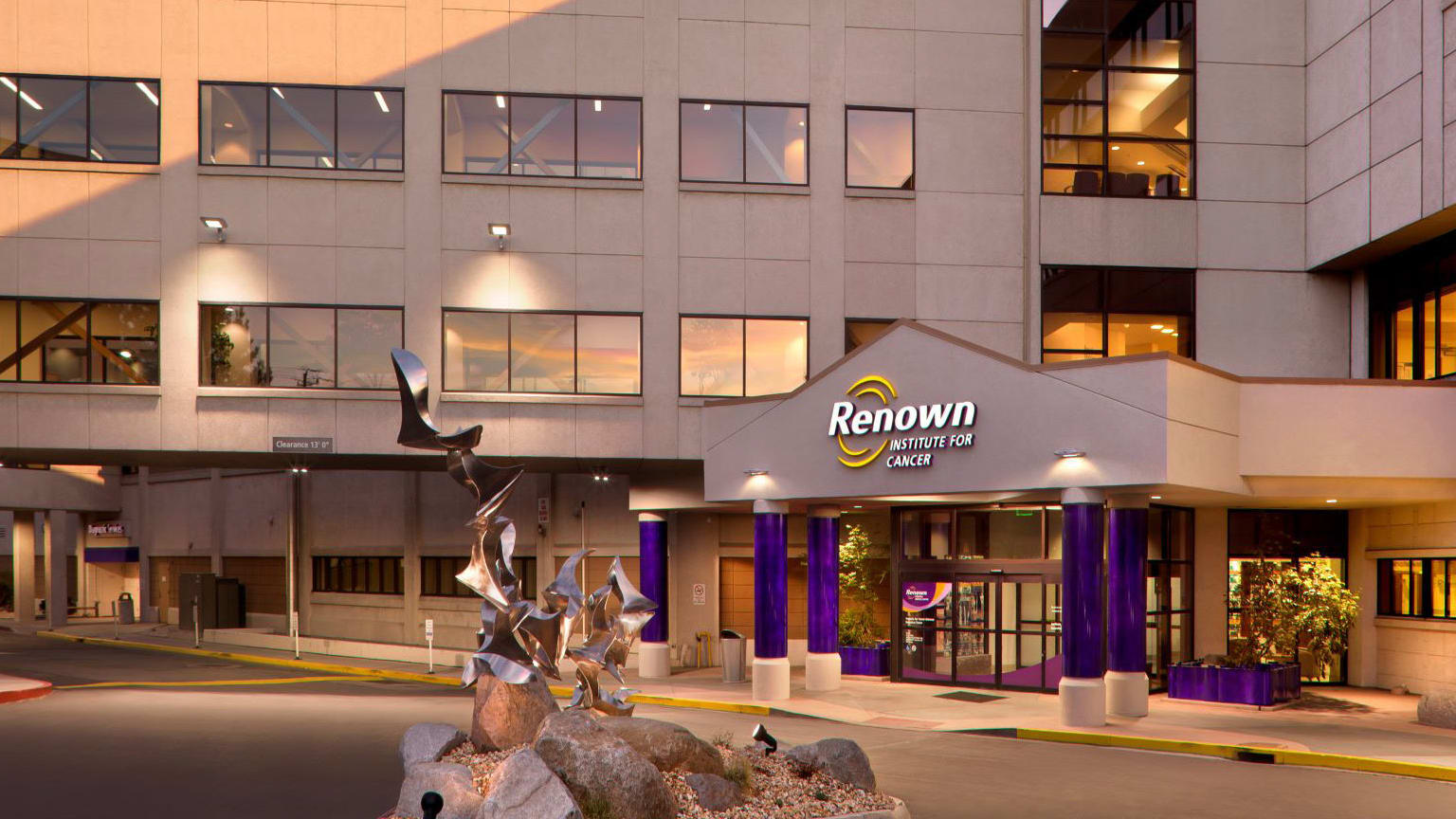 | | |
| --- | --- |
| Client: | Renown Regional Medical Center |
| Location: | Reno, Nevada |
| Project Type: | Retrofit |
| Building Size: | 66,000 ft2 |
| Objectives: | Improve air quality in the Renown Health Institute for Cancer Radiation Therapy. Convert the plenum return air system to a ducted system. |
| Design Considerations: | Automated Logic has been on property since 1991. The simplicity, longevity and backwards capability all contributed to Automated Logic being specified. |
| Major Decision Drivers: | Automated Logic has been the system of choice due to innovative products and rapid response time. |
| Dealer: | Quality Controls Systems - Reno, Nevada |
| Installation Date: | November 2020 |